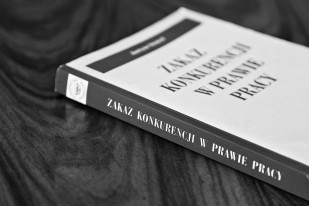 Justyna Stencel-Walter, PhD
Legal adviser
Professional experience (selected issues):
effectively handling

employment and

labour

law court cases

on behalf of renowned corporate clients representing various lines of business, including those in the clothing, automotive, foodstuff, and logistic industries;

drawing up contracts for outsourcing and temporary work services;

developing and evaluating work and wage regulations for a number of companies, leaders in their respective lines of business, including those in the automotive, foodstuff, production, and technical industries;

representing the Client

before the National

Labour

Inspectorate

,

and

assessing

issues concerning occupational health and safety;

negotiating with trade unions and providing legal advice on relationships with trade unions and collective disputes for clients in the metallurgical, clothing, and logistic industries

,

preparing legal solutions, taking into consideration the specificity of working hours of employees in specific trades, particularly in railway and transportation;

conducting specialist training in labor law, including also those addressed to chosen trades (in particular: railwa

y, medicine and transportation)

.
A Doctor of Law, she specialises in labour and social security law and is a legal adviser at the District Chamber of Legal Advisers in Poznań. She has many years of experience in providing legal and personnel services to corporate clients. She is also a university lecturer, scholarship holder (including a scholarship granted by the government of Japan and Great Britain), and a trainer. She has authored a number of publications, including Zakaz konkurencji w prawie pracy (Non-competition in Labour Law), the first such monograph on the Polish market. She is a specialist in international and European labour law, and is fluent in both speaking and writing English.
Throughout the many years of her professional career she has held a variety of positions, including a research and teaching post at the Faculty of Law and Administration, Adam Mickiewicz University in Poznań. In 2000 she defended her doctoral dissertation on non-competition in labour law. She has worked for some of the most prestigious law firms in Poland and cooperated, including as an in-house lawyer, with numerous contractors, both Polish and foreign companies (in particular entities with foreign capital share coming from Scandinavia, Japan, Germany, Italy, the UK, and the US), employing up to several thousand people. Currently runs a wide range labor law and contract law practice at Stencel – Walter Radcy Prawni law firm. Specializes particularly in labor law for specific trades, adjusting legal solutions to the work specificity in a given trade.
In her work,she successfully combines her extensive knowledge with her considerable practical and teaching experience.